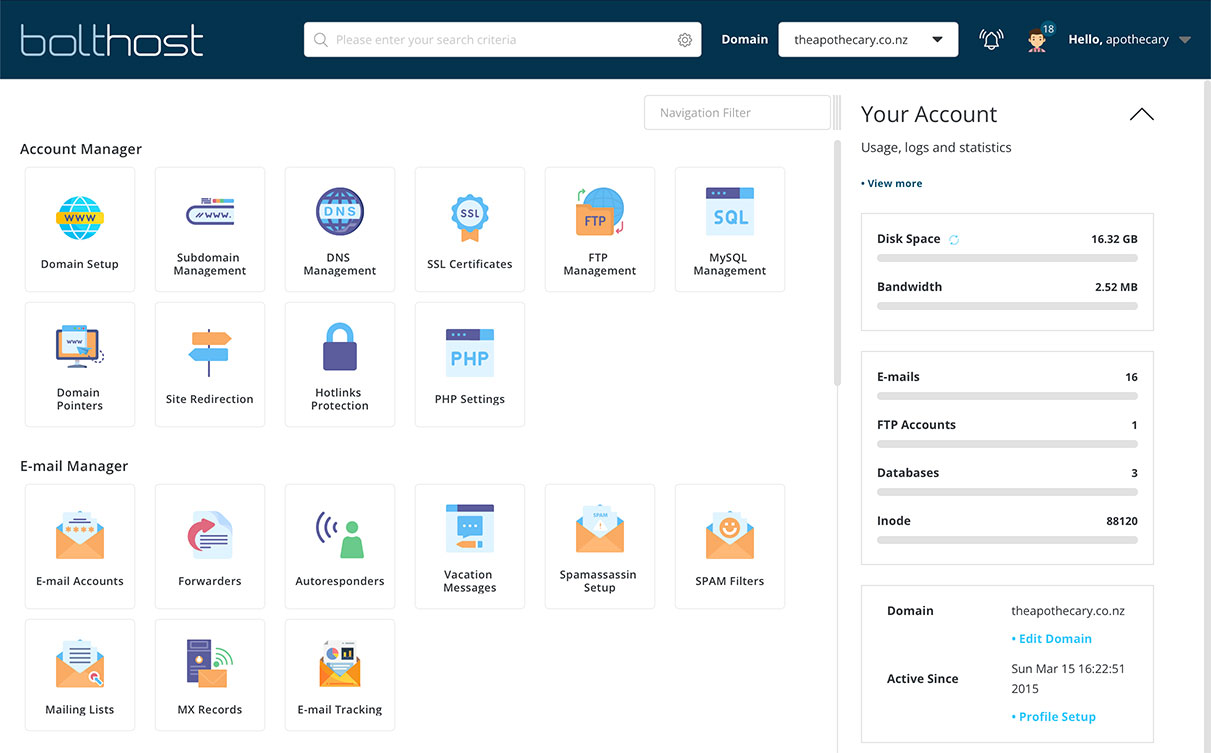 All BoltHost plans include our advanced web hosting control panel. The control panel allows you to do many things yourself such as creating email accounts, forwarders, setting up out of office auto replies, password protecting directories, setting up sub domains and additional websites and much more all without needing to ask us to do it for you. We believe Direct Admin to be the best web hosting control panel available and vastly superior to the common cPanel offered by most competing companies. Direct Admin includes many advanced features not found in other panels all accessible through a modern easy to use interface.
Our control panel features
Account management
Domain setup
Subdomain management
DNS management
SSL certificates
FTP management
MySQL management
Domain pointers
Site redirection
Hotlinks protection
PHP settings
E-mail management
Email accounts
Forwarders
Autoresponders
Vacation messages
Spamassasin setup
Spam filters
Mailing lists
MX records
E-mail tracking
Advanced features
Apache handlers
Catch-all email
Create/restore backups
Cron jobs
Custom error pages
Mime types
Two step authentication
Password protected directories
SSH keys
ModSecurity
GIT
ClamAV
System info & files
File manager
Terminal
Installed Perl modules
System information
Site summary / statistics / logs
Extra features
Webmail
phpMyAdmin
Installatron script installer
Setup Node.js app
Select PHP version
Setup Python app
Resource usage
Reseller features
Each account has the above features, reseller accounts also have access to sub account management features including:
Add new user
List users (including managing and logging in as each user)
Manage user packages
Change passwords
Edit user message
Suspension message
IP management
Name servers
Manage user backups
cPanel importer
Message all users
Skin manager
Reseller statistics
We do not provide tools for invoicing your customers, we recommend WHMCS Complete Solution to fully automate provisioning of web hosting accounts and invoicing. WHMCS is fully compatible with our control panel.